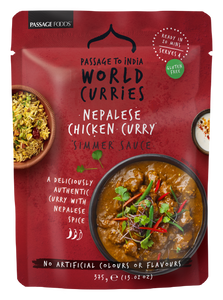 Try the latest edition of Passage Foods World Curries range - Nepalese Chicken Curry Simmer Sauce! A delicious blend of Nepalese spice perfectly balanced and easy to prepare.  This is sure to be one of our favourite curries among curry lovers all over Australia. 

PRODUCT INFORMATION: 
Ingredients: Tomato Puree (Tomato, Water), Onion, Spices, Sugar, Yoghurt Powder ( Milk ), Salt, Corn Starch, Coriander Puree, Garlic, Food Acid (Citric), Vegetable Gum (Xanthan), Spice Extracts.

Contains: Milk